Inspiration and research behind my books…
During my former life as a professional dancer, I was fortunate to travel to some wonderful places for work so I never really bothered going on holiday to exotic places as my budget couldn't match the sort of places I had worked in, Hong Kong and the Caribbean to name just two. We had some wonderful family holidays when our children were young but it wasn't until they had left home that Chris and I started to holiday as a couple. Our first holiday was in Barbados, to celebrate thirty years of living together, and I was able to draw on some of our experiences for the second book in the Liberty Sands trilogy. The initial idea for the trilogy was sparked when we had our second holiday as a couple, visiting the stunningly beautiful island of Mauritius.
The holiday was supposed to be total rest and relaxation after the release of my first book, One Hundred Lengths of the Pool, and a year battling to bring my chronic myeloid leukaemia under control.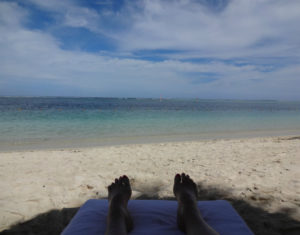 I fully intended to do nothing but swim, read, eat lovely food and go for long beach walks but on the first morning, as I sat under the shade of a straw parasol, looking out on impossibly blue water, listening to the rumble of the waves on the reef, an idea started to form in my head. From that moment, the entire holiday was like a research trip, frantically scribbling notes at every opportunity.
The resort we were staying in became 'The Plantation House' hotel and I used their restaurants as the inspiration for 'Waves' and 'Roberto's' in Life's a Beach and Then… I made lists of our waiters' names and even described the unusual way the Greek salad was served, that I enjoyed for lunch on several occasions.
I'm not usually a fan of guided tours, preferring to rent a car or simply enjoy the resort we're staying in, but on this holiday we
booked a car with a driver for the day as my main character, Holly, would have done in order to be able to write her blog in an informed manner. Even our beach walks were useful. One of my copy editor's favourite lines from the book was inspired by a pile of coral we stumbled across… "She zoomed in to get a close-up but with a shudder realised that it looked like a desecrated graveyard with the bones of corpses piled high."
There are some highly-charged emotional scenes and some quite sensual romantic scenes in Life's a Beach and Then… but I think my favourite chapter to write was twenty-four, a fishing trip that the two male characters, Robert and Philippe go on. It's full of talking at crossed purposes and with a hint of humour and was a relief to write in the middle of the dramatic chapters that surround it.
The second half of Life's a Beach and Then… is predominantly set in England, although Philippe is still in Mauritius getting himself in trouble, and centres around Holly's home in Reading and Robert and Rosemary's home in Woldingham, Surrey. As a Woldingham resident for seventeen years, I had plenty of memories to draw on to get the setting spot on.
The second book in the trilogy, If He Really Loved Me…, starts in the Maldives, where Holly is on another of her travel blogging trips, but the main story is focused around her son, Harry, and the search for his absent father. I introduced some younger characters in the form of Harry's university friends, Amy, Jack and Hugo, and I thoroughly enjoyed writing their dialogue which I then had approved by my own twenty-seven year old daughter. In truth, Amy has more than a hint of my daughter in her character and Harry is definitely based on my son. There is a scene on a beach in Barbados, set against the dramatic Atlantic rollers, where Holly and Harry argue – the things she says to him are heartbreaking. I have never yet been able to read that sequence out loud without crying.
Once again, I was able to draw on local knowledge, such as the 'boogie bus' and the bus stops all having girls' names, to add to the authenticity of my story.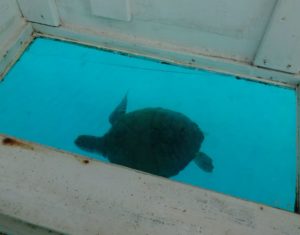 We had taken a glass bottom boat trip on our holiday in Barbados during which the boatman had pointed out a house purported to be that of X Factor judge Simon Cowell – that little snippet of information made it into the book of course.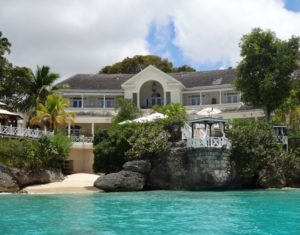 Sections of the second book feature the beautiful Gower peninsula in Wales and as that was where most of the book was written those sequences are based on real locations too.
Towards the end of If He Really Loved Me… I introduce 'a knight in shining armour' called Nick which leaves readers pondering who they think Holly may choose to spend the rest of her life with.
My home of Nottingham is also Holly's home town although she hasn't lived there in over twenty years since her mother, Carol, threw her out at the age of nineteen after discovering she was pregnant. We know of Holly's mother from the previous two books but in It's Never Too Late To Say… we meet her for the first time. She is suffering from liver cirrhosis and alcohol-induced dementia and has a live-in carer, Helen. I found the scenes between Carol and Helen quite harrowing to write particularly when we discover the catalyst that started her drinking in the first place. I went on another trip down memory lane for the scenes set in and around Trent Bridge, using childhood visits to my grandmother's house in Green Street as my research.
Holly has managed to land herself a job in television as the travel correspondent for the number one morning show, On The Sofa, and I enjoyed being able to write about my behind the scenes knowledge of television for these sequences.
Although parts of the final book in the trilogy are a little darker due to the story-line we do end up with a beach wedding back in Mauritius – but who is marrying who?
I've always fancied a beach wedding myself – maybe we'll take the plunge on our fortieth anniversary of living together in January 2018.
---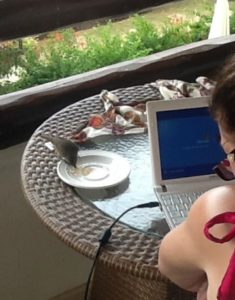 A visitor in Barbados…
Quite appropriately, considering Holly's job as a travel blogger, my first book was written in a variety of overseas locations which we had visited on holidays in the eighteen months it took from starting to finishing Life's a Beach and Then… Conceived in Mauritius, 'and Then…' added to the title by my friend Denise in Dubai, 30,000 words written during a week in Corsica but finished and edited at home in Berkshire.  Every time we went away my 'baby' laptop went with me and I dedicated at least two hours of my day to writing.
I prefer to write alone but this cute little sparrow, pecking at sugar grains from a saucer on the balcony of our hotel in Barbados, was a welcome distraction before I got down to the serious business of putting words on the page.