Publisher:

Preface

Available in:

Kindle
Kindle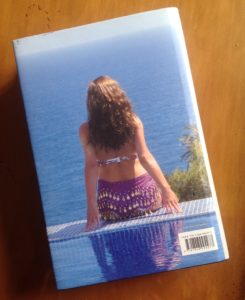 One Hundred Lengths of the Pool is not really an autobiography it is a series of stories from my life, professional and personal, and each story has a number associated with it which corresponds to the lengths of the pool I used to swim as part of my fitness regime, which is what I was doing when the seed of an idea for a book began to germinate. Incidentally, although the front cover picture was taken by a professional photographer, the back cover photo of me sitting on the side of an infinity pool, was taken by my other half.
The book is not written in chronological order which was an issue for some of the critics but the fans who enjoyed it thought it was an original and refreshing approach. For example, Chapter 1 is not about my birth, it is my number in numerology, and Chapter 2 is about coming second in a story writing competition when I was ten years old. There are some quirky little chapters like twenty-four, which was the number of the bus I used to take in to Nottingham from my home in West Bridgford, but the hardest to write was Chapter 87, the age my dad was when he died quite suddenly. It took me a while to complete the list of one hundred chapters with associated stories and then it was a test of my recall. Thankfully I had my partner, Chris, who has been at my side from the age of twenty-one, to help jog my memory. So, originally the book had one hundred chapters but I had to add Chapter 101 after being diagnosed with a rare type of leukaemia just as I was finishing the book.
I was very fortunate that Random House liked the idea and negotiated with QVC to sell signed hard-back copies on the channel. When they said they wanted five thousand copies, I must confess that I hadn't really given much thought to the actual process of signing them all. It was quite a shock, and a little daunting, walking into a room filled with my books on every available surface and more trolleys full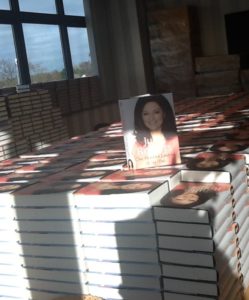 waiting outside the room. It took two full days to sign them all and another couple of days for my shoulder and wrist to recover. I was very pleased that they all sold out and none had to be returned for pulping.
One Hundred Lengths of the Pool is no longer available as a print edition, except on the secondary market, but you can still get it as an ebook if I've whet your appetite.
On the inside of the book jacket it says:
Julia Roberts was one of the first two faces to appear on QVC The Shopping Channel in 1993, and her warmth and honesty have encouraged millions to shop from the comfort of their own homes ever since. She was not, however, a stranger to television, having previously appeared in Beadle's About, The Price is Right and numerous advertisements, including the Woolwich Building Society where she famously asked, 'Can I help you?'
None of this would have come about if she hadn't survived the killer disease polio in the 1950s. Not only did she survive but, against all the odds and the advice of her careers teacher at school, she became a professional dancer. That was the start of a long and varied career in the entertainment industry, unless you count appearing on the front cover of a cookery book at the age of ten. She has worked as a DJ, a singer, and actress and, for the last 24 years, a presenter; and it's all in her book One Hundred Lengths of the Pool.
Each of the hundred lengths is associated with special moments from her life – some professional, some personal, some happy and some sad. However, there is an extra length of the pool that she didn't expect to swim and it has changed her life completely, testing her belief in her favourite saying, 'That which does not kill us, makes us stronger…'