Happy New Year!
5th January 2018
Firstly, I'd like to wish you all a very happy and healthy new year and secondly, I'd like to apologise profusely for my lack of blogs in the second half of 2017. It has been a very hectic few months for a variety of reasons with me trying to juggle a number of balls at the same time. I love being busy and enjoy the pressure of a deadline, both in life and when I'm writing, but I must admit that I have been cutting things very fine lately and definitely burning the candle at both ends.
Actually, just to digress for a moment, the candles I have been burning throughout writing Alice in Theatreland and my new novella, Christmas at Carol's, are a Yankee Candle fragrance called Snow in Love. If you love scented candles, you may want to give this one a go as it has certainly given me a feeling of calm and clear-headedness when all around has been chaotic!
So, to further explain my lack of blogging, alongside my day job at QVC I have been very hands on helping with the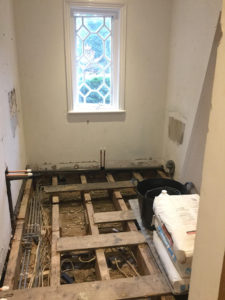 transformation of our Victorian cottage. We had been making some gradual changes, including my beautiful writing room in the loft, but decided to tackle our bathroom, which was barely functional, and our living room, which involved erecting a new dividing wall, before Christmas.
To say it was a challenge is putting it mildly! Although we had to have the professionals in to do the big jobs (ripping out the old bathroom, installing the new and all the plumbing and electrical work) we have done all of the decorating ourselves and quite a bit of the woodwork DIY has fallen to my other half and our son, without whom we would never have made the 18th December deadline.
When we were about halfway through the project I decided I would like to try and bring out the Christmas novella I had been working on. I had the plot and it was around half written when I contacted my copy editor, Justine, my cover designer, Angela, and my formatter, Yvonne, the last week of October asking them if they would be able to work on Christmas at Carol's for a mid-December release date. They are quite used to me being a 'last-minute Lulu' and all responded with no problem. With no excuse not to get it finished, apart from being knee deep in paint brushes and rollers,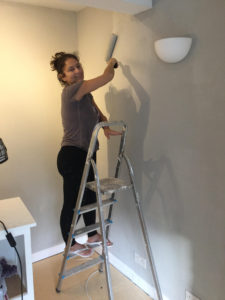 I ploughed on and had the first draft with Justine by the last week in November. I had also been helping Angela search for the perfect red-brick cottage image to use for the cover – I hope you agree we found it.
Christmas at Carol's is my first attempt at a novella, it's around 20,000 words, and it's also the first time I have written in the first person. I found it quite challenging at first but, once I allowed myself to 'become' Carol every time I sat down at my writing desk and only think her thoughts, I really enjoyed it. In fact, I enjoyed it so much, I have already decided to write a sequel for next Christmas called 'Carol's Singing'. It's also more of a romantic comedy with a hint of mystery and family relationships so very different from 'Alice'. Do leave me a comment if you have read it and enjoyed it, and Amazon reviews are always much appreciated – there are twelve so far and I'm delighted to say they are all five star.
I even managed to squeeze in a blog tour – massive thank you to all the bloggers who gave their time so close to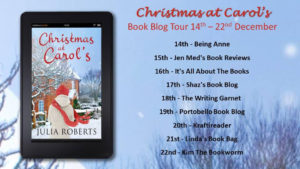 Christmas to read and review or feature an excerpt – it really is hugely appreciated.
So, we are already a few days into 2018 and although I don't make New Year resolutions as such (I always feel such a failure if I break them) I have set myself a few goals. I am going to write a minimum of ten hours each week which will include my QVC weekly blogs and more blogging on here, hopefully monthly, along with getting started on my next book and possibly a short story for Valentine's Day, exclusively for the blog initially. I think that's enough to be going on with for January particularly as me and 'im indoors are going away on holiday to celebrate our fortieth (yes, 40th) anniversary of living together. I hear there is a BIG wedding happening this year, maybe, just maybe we should follow suit!
One last thing, quite exciting actually, Amazon have selected Alice in Theatreland for a month long 99p Kindle deal which started on January 1st. If you haven't read it yet or you enjoyed it and feel like recommending it to a friend (especially one who got their first Kindle for Christmas) please do spread the word for me.
Speak soon (I promise)
much love
Julia xx
Oh No! Now it's August!
1st August 2017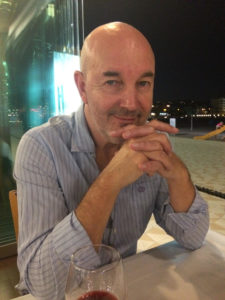 It seems to be true that the older I get the more quickly the months and years fly by. Is it really August already? It's hard to believe that tomorrow we will be celebrating the first anniversary of my website. I've had some great feedback on it – 'im indoors really did do a fantastic job setting it all up! I thought you might appreciate a glimpse of my 'other half' of 39+ years… this was taken on the first day of our holiday in Spain, which was also my birthday.
We stay in a villa in Javea, a smallish resort on the Costa Blanca, and it was while we were there last September that the idea for Alice in Theatreland was born – little wonder, with this fabulous view for inspiration! I didn't do any writing at all on our recent holiday though, on strict orders from the family. They had seen how hard I had to work to meet the self-imposed deadline for 'Alice' and decided I needed a complete rest! They were right, and as a result I was able to get some reading done instead… I LOVE a good book or two or three when I'm on my hols. I wonder if you are more a Kindle or 'real' book fan? I like both, but Kindle is so much more convenient on holiday. It's lighter in the suitcase and means you never have to run out of reading material.
Mind you a book is probably safer for reserving your sunlounger!
I hope you took advantage of the 99p Kindle deal on Alice in Theatreland recently? If you did I would really appreciate your thoughts once you've had chance to finish it. You can email me here at the website info@juliarobertsauthor.com or leave an Amazon or Goodreads review which are always much appreciated.
I must confess I don't have a clue when it comes to all the technical stuff to do with this website so when I want to reply to your emails, write a new blog, or host a competition, Chris has to stop what he is doing and set it all up so that all I need to do is type! That is not the case for all the fantastic bloggers who very kind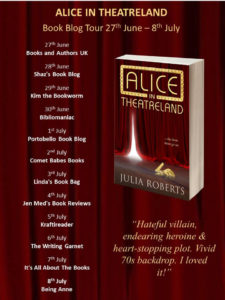 ly agreed to take part in my blog tour which ran from the 27th June, paperback publication day, for twelve days. If you missed it and would like to read their reviews, Q & A s, my guest posts and an excerpt or two, I will put all the links at the bottom of this blog.
So having had a complete break from writing on holiday (which extended for a further five weeks after we arrived home) I finally dusted the computer off last weekend and wrote a short story. Once I've had a chance to edit it and make sure I think it's good enough for you guys, it will be available as a free download on here. I'll keep you posted via the newsletter so if you haven't signed up for it yet, now might be a good time.
Just one more thing, I'm thinking of starting a virtual 'street team'. What's that, I hear some of you ask? Well, for those of you who like social media, Facebook, Twitter, Instagram etc. and have a following or friendship group in the hundreds, there would be little rewards if you help me spread the word about my books. It's only an idea at the moment but let me know if you're interested and also if you can think of a good name for it… 'Roberts readers?' – I'm sure you can think of something more 'ear'catching than that.
Well, I'd better get back to my writing if I'm going to have the next book out before the year ends!
much love
Julia x
June Already? How did that happen?
6th June 2017
June is one of my favourite months of the year and not just because it is my birthday month – honestly! I love it when the garden is in full bloom particularly the aromatic flowers I have planted. The roses, lavender and honeysuckle are all fragrancing the air on warm evenings but the pink peonies are potentially my favourites. Unfortunately, just as mine came in to flower the weather changed and the strong wind and heavy rain caused their heads to be bowed down in the dirt – the solution was to cut them and bring them indoors so now I have their delightful aroma as I sit writing this.
When the sun is shining, one of my favourite things to do, once I've finished gardening, is to sit outside reading. If you like to do that too, and prefer a 'real' book to a Kindle, I have a competition further down this blog for you to win signed copies of Alice in Theatreland.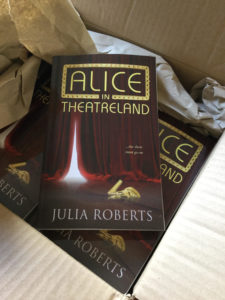 I was very excited when the van pulled up this afternoon with the first consignment of paperbacks. I now have a hallway full of boxes of books and I know someone who is just itching to get his paws on them!
If you are a cat lover, I'm pretty sure you are familiar with pictures like this one of Wilfie.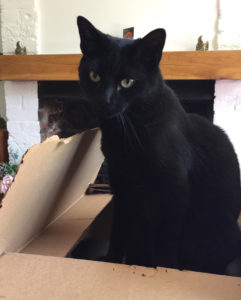 He just loves boxes of all shapes and sizes and, despite being quite a big cat, does his best to squeeze inside them. He also likes to bite them as mentioned on my most recent post on Instagram which had more likes and comments in the first few hours than most of my posts get! If you want to follow me on Instagram I'm @juliagroberts – still a bit of a novice but getting there bit by bit.
So as not to be accused of favouritism, here is a photograph of my elderly cat, Poppy.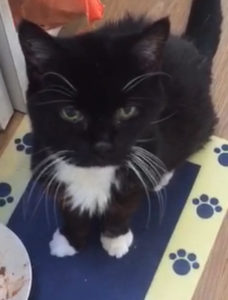 She also has her birthday this month – she will be twenty-two on the 24th June. She is quite thin now and very picky with her food but she still purrs (very loudly actually as she is deaf) when being stroked. I don't know how much longer we will have her but we try to make the most of every minute.
So…. Competition Time!
I am giving away five signed copies of Alice in Theatreland before publication on 27th June. To be in with a chance of winning a copy all you need to do is answer this simple question:
In my Liberty Sands trilogy of books, what is the name of Holly's son?
Send your answer on an email to info@juliarobertsauthor.com before midnight on Tuesday 20th June and I will announce the randomly selected winners on here on the 22nd June so there will still be plenty of time to pre-order if you're not lucky enough to win.
Much love and good luck
Julia xx
What People Are Saying About "Alice"…
8th May 2017
It's always a little nerve-wracking when a new book baby is born, particularly one with a completely new cast of characters. My only previous experience of this has been with short stories so I have to admit to a little trepidation alongside the excitement of Alice in Theatreland being released on Kindle on 27th April. I'm pleased to say my fears were unfounded if the feedback and reviews I have received so far are anything to go by. Here is a taster of some of the ten reviews already posted on Amazon:
The era is re-created with authenticity; the characters wholly believable; and the ending… astonishingly cleverly crafted!
…fabulously wicked people who are easy to loathe, an endearing heroine and friends we'd all love to have. You just have to read this book.
The characters in this book are so real, it's like you know them and feel for them… the ending of the book took my breathe away, I had to re-read it to believe it.
If you want to read the full reviews, they are on Amazon where you can also use the Look Inside feature which takes you six chapters in to the book and introduces you to all the main characters.
It's hard to believe that this time three weeks ago I was still very much in the planning stages of the Facebook Live launch party. We had only decided to do it a few days previously and if it hadn't been for my daughter, Sophie, it would never have happened.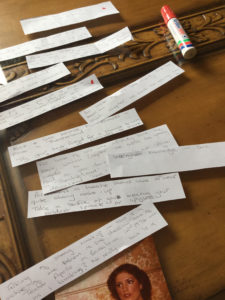 She arrived at our house on the day before launch to a dining-room table full of slips of hand-written paper covered in ideas for the party, a vague time-line and two hand-written quizzes. Three hours later she had typed everything up ready to post on Facebook periodically throughout the party. If you missed it, you can still view the videos and all the activities and comments by going to my JuliaRobertsTV Facebook page and clicking on the events tab, then opening up Alice in Theatreland launch party.
Once I had got past the nerves of preparing to talk to camera for fifteen minutes (yes, even QVC presenters get nervous talking to camera!) I thoroughly enjoyed the interaction and the fifteen minutes stretched to twenty-two without me realising. Sophie had to wave her arms around frantically to shut me up or we wouldn't have squeezed everything in. I particularly liked the responses to the caption competition which had me laughing out loud – mind you I had indulged in a glass or two of pink champagne by that that point and I am a bit of a lightweight when it comes to alcohol!!
The champers was provided by Sophie and these beautiful flowers were from all the family –
I really am lucky that they are so supportive of my writing. Thanks to everyone who participated in the evening and made it my favourite book launch so far.
It's not yet two years since my first novel, Life's a Beach and Then…, was released but during that time I have met some really kind and helpful people in the 'book world.' While I was at the writing retreat hosted by Julie Cohen and Rowan Coleman in March, I met fellow writer Anne Woodward. She told me she liked the sound of "Alice" and said she was going to buy it when it came out. As she seemed so interested, I offered her an advance copy to read and give me feedback on. Wow! I couldn't have been more thrilled. She was only the second person to read it, after my daughter, and her reaction made all the hours of sitting writing at my computer, worthwhile.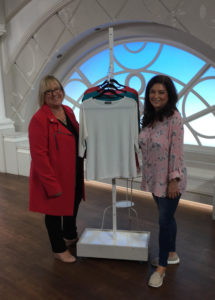 Someone who had a similar reaction to the second book in my Liberty Sands trilogy, If He Really Loved Me…, is Kim Nash.
Kim works for the very successful publishing company, Bookouture, and I remember having a lengthy telephone conversation with her after I had sent her an advance copy to read. We have only met once, at the RNA Christmas party last year, but when she posted on Facebook that she was in London last Thursday evening, and at a bit of a loose end, I offered to show her around QVC if she was interested. It was lovely to spend a little time chatting with someone who has such knowledge of the world I am starting to inhabit and Kim assured me she enjoyed herself. She looks completely at home in this picture on the studio floor, doesn't she but I must apologise once again for the cup of tea I made her. As a non tea-drinker I am a little clueless in the art of tea-making but she very graciously said it tasted good… somehow I doubt it!
Well, back to making the finishing touches to the cover for the paperback of Alice. If you do read the kindle version, as my ninety-year-old mum is at the moment, and enjoy it, an Amazon review would be much appreciated,
much love
Julia xx
27th April 2017
Prologue – September 1976
Alice closed her eyes, battling the feelings of nausea that washed over her in waves. The stench of vomit with its acidic undertone always had this effect on her. How long will I be able to hold my breath before I start to feel faint? she wondered, breathing in through her mouth as deeply as she dared to minimise the pungent aroma. An image of Mr Wilkins, her swimming coach, filled her mind as her lungs expanded with air. The repetitive practising of underwater lengths had given her an edge over the other competitors in the regional finals that he was so proud she had won. A tear squeezed out of the corner of her eye. He wouldn't be so proud of me now, she thought.
Alice was fearful of taking her next breath but she knew she had to. Her stomach contracted, and bile started rising in her throat. The retching resumed, adding only tiny amounts of clear fluid to the pool of her own puke in which she was lying. Bits of it were already drying on her face and stuck in her hair, but Alice was beyond caring. The effort of vomiting doubled the excruciating pain in her lower abdomen. Her hand moved down across her belly towards the top of her thigh and connected with something warm and sticky. She knew without looking that it was blood.
I don't want to die, she thought, drifting back towards unconsciousness, but perhaps that's the best thing for everyone after what I've done.
'Alice, are you in there?'
She recognised the voice but couldn't place it.
'Alice! I need to pee. I'm busting. Open the door.'
'Help me,' Alice murmured to the only person who could save her, before darkness enveloped her once again.
Mixed emotions…
25th April 2017
It's a very exciting week with the birthday of my fourth novel, Alice in Theatreland, on Kindle but that is tempered by a not so pleasant anniversary the day before. On the 26th April 2012, I met for the first time with my consultant, Professor Goldstone, at UCLH to be given the news I dreaded but in a way expected. The bone marrow biopsy, performed ten days earlier, confirmed that I had Chronic Myeloid Leukaemia. Nothing prepares you for a cancer diagnosis, even in this day and age where it is more common and far more treatable, and I must admit to leaving the hospital that day in a trance-like state, knowing that my life would never be quite the same again. Despite being somewhat unfortunate to have developed CML, there are only six hundred confirmed cases in the UK each year, I know I was incredibly lucky to get it then rather than ten years previously when the treatment was much more invasive and the survival odds much lower. I have been on a 'wonder' drug (oral chemotherapy) for the past five years and probably will be for the rest of my life, and although it does have side-effects for me they are fairly minimal. Which is why I celebrate every 26th April since 2012 as another year that I might not have had if it hadn't been for the wonderful charities like Bloodwise who raise money to fund research into the latest treatments. This year I am baking a celebratory cake! It's a Luscious Lemon Cake – the way I see it, if life gives you lemons, bake a cake with them!!! If you'd like to try my recipe, it's very easy:
4 oz self-raising flour
4oz butter or margarine
5 oz golden caster sugar
1 medium size egg
1 lemon
Finely grate the rind of the lemon. Add to the margarine and 4oz of the sugar in a small saucepan and melt together over a low heat. Allow to cool slightly.
In a medium bowl, whisk the egg (I use a balloon whisk) then add the melted mixture gradually, all the time whisking. Fold in the flour and pour the batter into a 7 inch square greased & lined tin and bake for 25 minutes at 180. When cooked, prick the sponge with a fork and pour over the syrup made by boiling together the juice of the lemon and the remaining 1oz of sugar.
That's it! Very simple and very scrummy.
It's a sobering thought that if I hadn't been one of the eighty per cent of people who survive a CML diagnosis, none of my novels would ever have been written. The idea for my first novel only came to me a year after the 360 health check that probably saved my life and now we are about to publish the Kindle of Alice in Theatreland, my first truly standalone novel. Early feedback from the few who have read advance copies has been amazing – I'm always nervous sharing my books but pretty ecstatic when people like them. If you've pre-ordered it should arrive on your Kindle just after midnight.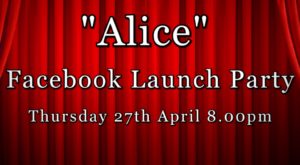 We've never hosted a virtual launch party before so this time I thought why not? It would be great if you could join us on Thursday 27th April from 8pm – 9.30pm on my Facebook page JuliaRobertsTV and then click on the event tab. You'll be able to ask questions about 'Alice' and also have the opportunity to take part in fun competitions to win chocolates and beauty products. There should be a bit of 70's music and I'm hoping someone will treat me to a bottle of something bubbly!
If you are a paperback reader we are looking at June for publication so not too long to wait.
Finally, in case you are not signed up to receive my newsletter, the winner of the competition on my last blog was Alison Kelly. Congratulations Alison, I hope you will enjoy reading about Holly & Co.
Much love
Julia xx
Break a Leg… as they say in showbiz
         10th April 2017
On Saturday morning, I finally put the finishing touches to my edited manuscript of Alice in Theatreland and pressed the send button which saw it winging its way across the Atlantic to San Diego where Yvonne, the lady who formats for me, lives. My copy editor, Justine, and I have worked a little differently on this book. Usually, I wait for her to edit the whole book and send it back to me but time was pressing on this one as I had promised an April publication date, so Justine agreed to send it back in sections to enable me to make a start on it during my five-day fortnightly break from my day job at QVC. I was thrilled with her reaction to it: 'It's hugely enjoyable, with great characterisation and evocation of London's theatre world in the 1970's'.
I also promised an excerpt on this blog so let me set the scene for you. It's 1976. The title character, Alice, is a nineteen-year-old dancer from the provinces who travels to London to audition for a new West End show. She is an experienced professional dancer, having previously worked in summer seasons and pantomimes but is rather less experienced in the ways of the world. At the audition she is befriended by Gina, who has seen and done it all, and has a second job working as a 'hostess' in a London nightclub, working for a boss who she fears may have mafia connections. Gina has worked for Larry, the new show's choreographer, before but it is the producer, Richard, who has the final say on who will make his chorus line. Unknown to Alice, one of the stars of the show is Peter Flint, the former lead singer of a pop band called Moot Point who she has had a crush on since she was fourteen.
The book is contemporary women's fiction/thriller with a hint of romance. I hope you will like Alice, Gina and Peter as much as I did when writing them but I think you may be rather less keen on Richard. Here is the first time we meet him in Chapter 2:
  The sun streaming in through the lead-light windows of the dining room caused Richard to raise his newspaper higher to prevent him squinting as he read. Most of the time, he flicked through stories with little interest, but at least it meant he didn't have to try and make polite conversation with his wife, Anita, who was sitting at the other end of the dark oak table. The jingling sound of her charm bracelet each time she reached for her cup of tea or another slice of toast was jangling his nerves. Who gets up in the morning and puts their full make-up and jewellery on before breakfast? he thought, lowering his paper slightly. Anita was staring at him.
            'What?' he asked, barely able to keep the irritation out of his voice.
            'You're not even aware that you do it, are you?'
            'Do what?'
            'Tut,' she said. 'Every time I move my hand, you tut.'
            'It's that bloody bracelet. It's so annoying. Do you have to wear it all the time?'
            'You know why I wear it, Richard. It makes me feel closer to Mum,' she said, fingering the gold charms and battling to hold back the tears that were welling in her eyes, threatening to spill over and cause her perfectly applied make-up to run.
            Oh great, here come the waterworks, Richard thought, lifting his paper back up so that he didn't have to witness the salty tears, coloured black from mascara, streaking down his wife's face.
I hope that has whet your appetite but I must warn there are some rather graphic scenes in places.
The research for this book has largely been down to memory as I was a professional dancer in the 1970's, but the characters and story-line are pure fiction… well, mostly! Alice in Theatreland will be out on Kindle on 27th April (paperback to follow shortly) but should be available to pre-order later this week.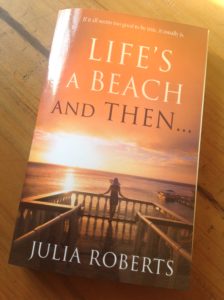 I've also decided it was about time to have another competition on this blog. The covers of the Liberty Sands trilogy of books were all done in a matt finish whereas Alice in Theatreland will be gloss. Well, I say all, but a couple of Life's a Beach and Then… somehow got printed with a glossy cover. As they are the only two in existence, I am keeping one but the other is up for grabs and will of course be signed. To be in with a chance of winning, sign up to my newsletter (I know some of you already are) and then email the answer to this question before midnight on 17th April 2017 to info@juliarobertsauthor.com The winner will be randomly selected.
Where in the world are we at the start of Life's a Beach and Then…?
a) Barbados
b) Hong Kong
c) Mauritius
Good luck and Happy Easter
love
Julia xx
Holiday, Writer's Retreat, Purple4Polio and Cover Reveal…                                                                                                                                                                                                13th March 2017
A lot can happen in six weeks and that is certainly true of the past six weeks for me. As you will know if you read my last blog, I have been very busy working on my latest novel, not only writing the words but also deciding on the cover design in conjunction with my designer, Angela Oltman, to be revealed later in this blog. I have a self-imposed deadline of April to publish this latest book and had fallen a little behind, with working at QVC and life in general, so I booked time off from February 11th until March 2nd. The plan originally was to go on a two week holiday but I had so much writing to do, we decided that I should have a writing 'blitz' for a week (I managed 15,000 words) and then go away for nine or ten days. The next decision was where to go? I thought it would be better to go somewhere we had been before so that I could write for a couple of hours each day and not feel that I was missing out on sightseeing and exploring. I needed sunshine, beach walks and balmy evenings and a manageable flight. We opted for Barbados after my other half found an affordable deal in the Virgin Holiday sale – I think we booked it on the final day!
We stayed at the Turtle Beach resort on the south coast, a new experience as we have only stayed on the west coast previously. We had a beautiful room with a sea view which was inspirational when it came to getting more words for 'Alice' – another 10,000 while we were away! I had also taken a copy of each book in the Liberty Sands trilogy to take some new promotional photos for twitter and facebook, and to leave at the hotel for guests to borrow and read.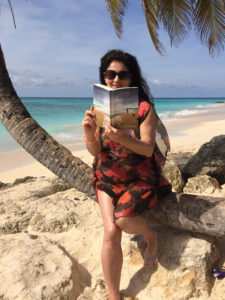 It was particularly relevant for the second book in the trilogy, If He Really Loved Me, which was partly set in Barbados.
I had told a fellow guest that we had become friendly with, Susan, that I would be putting the books on the book shelf after lunch as she had expressed an interest in reading them. However, when she went to look for them they had gone so my other half, Chris, set out on a quest to find them the following day. He came back to where I was reclining on my sunbed on the beach with a big grin on his face. It transpired that one lady had already finished Life's a Beach and Then… and had started on If He Really Loved Me… and the other one was half way through LABAT! The following day, after much persuasion from Chris, I went to say hello and thankfully they were both really enjoying the books – at least that is what they said! Our friend, Susan, was also reading them as she had downloaded them to her Kindle and it was funny to hear her talk about the characters as though they were real people – they are to me! We also met Katy, a twenty-one year old who had seen the tweet about the books being in the bookcase at Turtle Beach before she had even left the UK and had managed to get hold of LABAT after it had been returned, and I had a lovely email from a lady in Canada, Janie, who had read IHRLM and enjoyed it. I can't begin to tell you how great it feels as an author to have people read your books and enjoy them – magical!
All in all we had a fabulous holiday, just what we both needed after a pretty tough preceding six months. It was topped off at the airport when we were queuing to go through passport control. The lady in line behind me recognised me from QVC (how I don't know, with my beach hair and no make-up) and her son came to find me to ask if I would mind having my picture taken with his mum! Mind? I was honoured, although I hope the pic doesn't make it on to social media.
I was only back at QVC for a day before I was off again, this time for a writer's retreat which I booked months ago with my friend and fellow novelist from QVC, Debbie Flint. The retreat was being run by Julie Cohen and Rowan Coleman and was attended by a mix of authors some of whom have had several books published and others working on their debut, the latter of which I can hardly believe was me just two years ago. It was a joy to chat to novelists Emma Garcia and Miranda Dickenson and generally to mix with people who have the same passion for writing as me. Big thanks to Rowan for the tips she gave me on writing a synopsis. Weird isn't it – I have no problem writing the books but the synopsis I find really tricky.
So back to QVC for a couple of shifts and then on Wednesday it was International Women's Day. I had been asked to speak at a Rotary International Purple4Polio tea party hosted by former Blue Peter presenter and fellow Purple4Polio ambassador, Konnie Huq. She had to bring her young son with her as she had child care issues so it was handy that I had Chris with me and that he has a way with small children. While Konnie and I were being interviewed for a video (I'll add the link to it on here later in the week when it's edited) Chris was keeping her son occupied. The event was supported by Tiptree jam, who had made 52,000 jars of purple jam for the tea parties up and down the country, and Typhoo tea. The purpose is to try and raise another million pounds to continue with the vaccination programme that Rotary International began back in 1987 when up to a thousand cases of polio were reported every day! So far this year there have been just three, a magnificent achievement and edging ever closer to the total eradication of polio, which is their aim. There is no cure for polio and, as I know only too well, living with the affects of it is life-changing, but it is entirely preventable with a very safe vaccine that costs just 20p a dose! My message is for us not to be complacent in this country. Although there have been no recorded cases here for many years, with intercontinental flights and polio carriers exhibiting no symptoms, it only takes one person to start an epidemic.
My fellow speakers on the day were BBC Radio 4's Woman's Hour presenter, Jane Garvey and Emily Buchanan, a former BBC World Affairs correspondent. We were also treated to a Purple4Polio cake, baked by Martha Collison, the youngest ever contestant in the Great British Bake Off, which of course was formerly co-hosted by Mary Berry, also a polio survivor, and an 'a capella' version of Adele's 'Make You Feel My Love' by a lovely young vocalist, Bethany Hare. Thanks so much to Eve Conway, president of Rotary International in Great Britain and Ireland, for inviting me to be part of such a special event, and also to Jannine and Paul Birtwistle, from whom you can purchase the Purple4Polio bear pictured above.
Soooo… a drum roll moment! I am very excited to share with you first, the cover of my new book – I hope you like it as much as I do.  Alice in Theatreland is set in the 1970's, in London's West End theatreland. It is the story of a provincial dancer, Alice, and her hopes and dreams of one day seeing her name up in lights – unfortunately for her, Richard, a West End impresario, takes too much of an interest in her with disastrous consequences. If that has whet your appetite, the book should be up for pre-order in the next couple of weeks and I will be putting an excerpt from it on my next blog.
much love
Julia x
Happy New Year (twice over)                      31st January 2017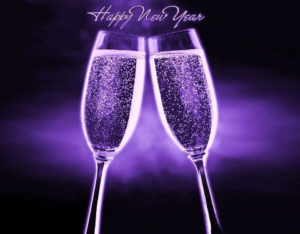 Is it really the last day of January, already? Where did that month go? Well, for me it has flashed past in a blur of working at QVC and writing my new novel… more on the latter later. I had intended to wish you all a Happy New Year earlier in the month so, somewhat belatedly, and in my favourite colour, let's touch champagne flutes and hope it is a good one for all of us.
If it didn't start that well for you (maybe you've had the horrible lurgy that seems to hang around for weeks) don't despair, there was another new beginning last Saturday with the new moon heralding the Chinese new year. I have always wished people "Kung hei fat choi" but I recently read that this is a more appropriate greeting; "xin nian hao" which literally means, new year good. Whichever, we have finally got rid of the mischievous monkey, renowned for being a chaotic and unpredictable year, and moved into the Year of the Rooster.
I became very interested in Chinese astrology years ago when I spent three months working in a cabaret show in Hong Kong and I still refer to my books, and the internet these days too, to check on what sort of year may lay ahead for my animal sign – I am a monkey! No comments please, but the attributes most associated with monkey people are quick-wittedness and communication.
Chinese star signs are defined by the year you are born rather than your actual birthday as I explained in a chapter of my first book,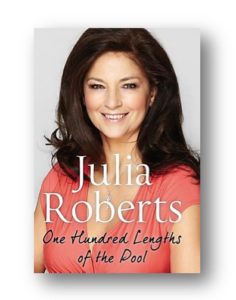 One Hundred Lengths of the Pool. It's strange to think that although it was published almost four years ago, people are still buying it and leaving reviews, and thankfully most of the recent reviews are kinder than the early ones… some were quite scathing. One thing I've learned since putting pen to paper is that, just like in show business generally, you have to grow a very thick skin. Not everyone will like you or your work but that's just the way it is, and everyone is entitled to their opinion.
As I mentioned earlier, I have spent a lot of my time off this January writing.
I was very lucky to receive a writing desk and chair as my Christmas present from 'him indoors' and as soon as our daughter went home after staying with us over Christmas and New Year we set it up in the attic room where she had been sleeping.
It is a lovely room to write in, light and airy with great expanses of sky visible through the skylight windows, and it's away from the rest of the house so I get total peace and quiet which has made me very productive. I have added another 20,000 words to my 'work in progress' this month and am looking on schedule for its release in April – I will share an excerpt on here soon. It will be interesting to have feedback as it is quite different from my Liberty Sands trilogy in subject matter. I'm also very excited about the preliminary cover designs – I promise you will get the first glimpse of the cover on here.
I was also the recipient of this mug which made me laugh out loud on Christmas morning… I soooo agree with the sentiment and have warned the family accordingly!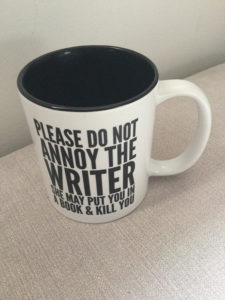 Well, if I'm going to get my new book ready to send to my copy editor, Justine, in early March I'd better finish here, particularly as I have some work to do on another manuscript which I need to send over to author Julie Cohen in advance of a writer's retreat I'm attending, again in early March. I've never been to one before, but my friend at QVC, Debbie Flint, has finally persuaded me to accompany her on one. She's been suggesting it for years and I must admit I'm really looking forward to it.
much love
Julia xx
Seasons Greetings                                        22nd December 2016
I hope you are all ready for Christmas and haven't found it too stressful. Although I do tend to leave things to the last minute, only making my Christmas cake three weeks ago, everything always seems to come together in the end – famous last words maybe? The tree went up last Sunday with a colour scheme this year of red and gold. It is the first time I have risked the 'good' baubles since we had the two younger cats, Wilfie and Milo, but they are now three years old and I'm hoping will be less interested in climbing the tree and whacking the pretty, sparkly, dangly things. To be fair, Wilfie has only knocked a couple of the unbreakable ones on to the floor from the lower branches where we had positioned them so keep your fingers crossed.
Well, I owe you all an apology. I was hoping to have a Christmas short story written to let you have for free on my website but I hit a snag. I liked the idea I had come up with so much that I quickly realised it deserved to be more than a short story. It will instead be a Christmas novel for next year. So, because I'm feeling a bit guilty, I thought I would put together a little Christmas give-away.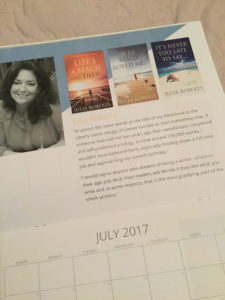 There will be three lucky winners and each will receive some 'smellies', a Christmas stocking and a calendar. This is not just any calendar, it is the IngramSpark calendar and I was delighted to be asked to appear in it for the second year running as one of their most successful independently published authors, so it is thanks to those of you who have bought paperback copies of my Liberty Sands books. You don't need to do anything to be entered into the draw apart from being signed up to receive my newsletter – good luck.
If you prefer to read ebooks don't order my Liberty Sands trilogy on Amazon until Boxing Day. There is going to be a price reduction promotion running until the new year which could save you up to six pounds if you get in early – tell all your friends!
Last week it was lovely to finally meet some of the Reading (as in the place) chapter of the Romantic Novelists' Association when we met up for Christmas lunch. Because of work commitments at QVC I had been unable to attend any of the monthly meetings during the year although there were a few familiar faces from the RNA summer and winter parties.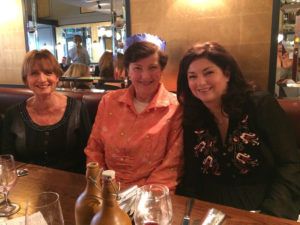 I was sat across the table from Rachael Featherstone whose debut novel, Puzzle Girl, is published in March – one to watch out for I think as the plot sounded really inventive.
Well, the kitchen is beckoning as I really do need to make some mince pies. Thanks so much to all of you who have continued to support me in my writing in 2017 – there are some great new stories coming your way in 2017.
Enjoy Christmas and see you next year
much love
Julia xx
Christmas Will Soon Be Here…                5th December 2016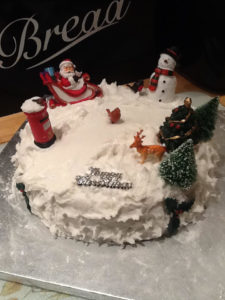 And I haven't really done very much in preparation for it. I am always a last minute Lulu when it comes to Christmas but I have been further hindered this year by falling foul of the horrible cold/flu bug that is doing the rounds. You can tell the people who haven't had it by the unspoken 'man-up' expression on their faces as they watch you sneeze, cough and attempt to clear the copious amounts of mucus from your chest and back of the nose. Not only am I totally bunged-up, I have also felt quite sick and dizzy on a couple of occasions and have had the whole 'tingly' skin thing? I'm about ten days in to it now and it is showing no real sign of abating which is not surprising as people on social media have been saying they have had it for four weeks! I suppose the silver lining is that at least it will have gone by Christmas… won't it?
On that subject, I have not bought or written a single Christmas card yet although I did manage to get our Christmas cake made last weekend.
Above is a picture of last year's which tasted yummy even if I say so myself. The recipe is on my QVC blog although it may be a tad late to make it for this year. Usually I make two, one for home and one for the backstage gang at QVC, but the person for whom that tradition started left last week, after twenty-one years with the company, so I think the tradition should be laid to rest in her honour. That is my excuse and I'm sticking to it!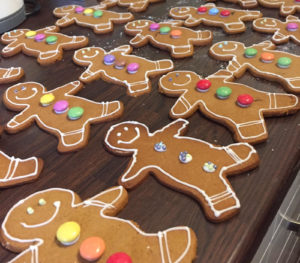 I have always been the main cook in our family, particularly when it comes to baking, so imagine my surprise and delight when our daughter, Sophie, arrived at our house for dinner with some of these little beauties.
I have attempted gingerbread men biscuits before but mine were teeth-breakingly hard. Sophie's were crisp on the outside, buttery soft on the inside and really gingery instead of being just sweet. I love the decorations too – she always has been very arty.
The rest of my family all started by biting in to the gingerbread man's head but I started with the limbs… how do you eat yours?
I have bought a few presents but lots still to get and of course nothing is wrapped. Paperback books make great presents for avid readers and there's still plenty of time to order from Amazon – was that a big enough hint that my books are available if you are struggling for gift ideas?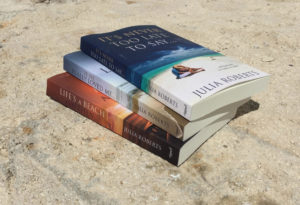 It almost goes without saying that I haven't put any Christmas decorations up but, to be honest, I usually leave it until a couple of weeks prior to the big day before I send the other half down to the shed at the bottom of the garden to retrieve the plastic containers full of lights, baubles and the like. When do you put yours up? Am I alone in leaving it late? Although is it late? I'm pretty sure that when I was a small child the decorations didn't go up until Christmas Eve.
I haven't really felt like writing since I came down with this bug, in fact I've only managed one chapter of my new novel since my last blog, but I'll pick up the pace a bit after Christmas and I'm still hopeful that I might be able to pen a website exclusive Christmas short story over the next couple of weeks, particularly after the positive response to The Shadow of Her Smile. Thanks so much for all your lovely emails and if you haven't read it yet do give it a go by signing up to my newsletter. The story should only take around ten minutes of your time and I'd love to know what you think.
Speak soon
Julia x
The Shadow of Her Smile…                                   21st November 2016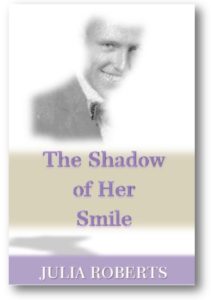 So… thanks to my clever daughter, with a little bit of help from 'him indoors', my new short story is now available to download for free by clicking on the *FREE short e-book* link on the menu. I hope you will like it and would appreciate your feedback. I am intending to do more short stories and eventually put them all in a short story collection but, for the time being, these stories will only be available on my website.
It has been a particularly busy time for me lately both at home and at work which has meant I haven't been able to get much writing done – honestly, it's not an excuse – but, after attending the Romantic Novelists' Association winter party last week, I felt  inspired to get back to a manuscript I started in September but put to one side in favour of a Halloween/Bonfire Night story. I have now decided to keep that story until the appropriate time next year and get on with the new book which is set in 1970's London.
It's a period I know plenty about, having lived through it, so thankfully I won't have to do too much additional research. I don't want to give anything of the story away at this early stage but I have a brilliant title which I hope I can do justice to. Depending on how much time I have, I am aiming to have it ready for April 2016 and I already have a very clear image of what I want the cover to look like. Don't worry, you won't have to wait that long for new material from me as I will be doing more short stories between now and then.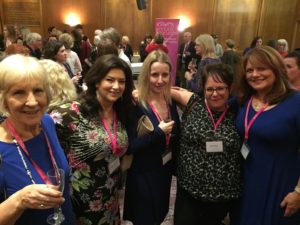 It was the first RNA winter party I have attended and a great opportunity for me to meet in person some of the authors I communicate with on social media. I hope I didn't look too weird peering at people, trying to recognise them from their avatar pictures on Twitter. I did quite well recognising Mandy Baggott, pictured second from the right, Helen J Rolfe, in the centre, and Sue Moorcroft, not in the photo. I also recognised a lady called Hilary, who I assumed I had met at the RNA summer party. It turned out that I had actually met her at an RNA south east chapter lunch where she had won a copy of Life's a Beach and Then… in the raffle! Fortunately she enjoyed it and is passing it on to her daughter to read – phew!
Talking of recognising people, the party hadn't really started when a gentleman pointed his finger at me and said, 'QVC Julia – you're my favourite! Can we have a picture together?' Believe it or not, I am quite shy, so I dragged Debbie Flint in to the picture too – two QVC presenters for the price of one!
I also finally met Kim Nash from Bookouture. We spoke at length around this time last year as Kim was going to organise a blog tour for the second book in my Liberty Sands trilogy, If He Really Loved Me… Kim very kindly read it as I was anxious to know whether the book was a standalone sequel. I didn't want people to feel that they had to have read the first book to understand the second. Kim confirmed that she did not feel she had missed out by not reading the first book although, if I'm honest, I would prefer people to read the whole story. In the end we left it a bit late to do a blog tour but maybe another time. Kim and her boss, Oliver Rhodes, won awards on the night so congratulations are in order for both of them.
Well, I'd better get back to writing my new novel now that I have got the bit between my teeth again
until next time
Julia x
Congratulations and Thanks…
                                                                     8th November 2016
I am truly appreciative of all those of you who signed up for my newsletter and as a little incentive during the month of October everyone went into a prize draw to win signed copies of the whole Liberty Sands trilogy. Well, the draw has been made and I'm delighted to announce that the books have been won by Sandra Russell. I emailed Sandra to tell her she was the winner and she emailed back saying that although she has read my memoir, One Hundred Lengths of the Pool, she hasn't yet read any of the fiction I have written. I hope she will like the trilogy as much as she said she enjoyed my first book.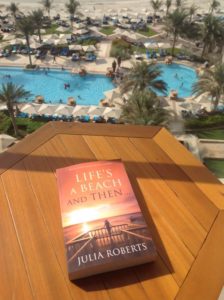 For those of you who bought and read Life's a Beach and Then... I have a thank you. You may not have realised when you bought your copy that ten per cent of the profit from every paperback and ebook sold goes to the Bloodwise charity. This was a decision I made long before the book was finished, let alone published, as I was so grateful to them for the funding they provide to help research in to new treatments for all sorts of different blood cancers. Without research, the treatment and prognosis for Chronic Myeloid Leukaemia, the type of blood cancer I have, would have been very different.
Those of you who have read the book will know that one of my characters, Rosemary, has CML and she was not as responsive to the oral chemotherapy drugs as I have been. In fact, there are still deaths every year from CML despite the development of new drugs for those who are unresponsive to the ones that have been around longer. So, I am delighted to say that this week I have been able to send a cheque for £1500 to Bloodwise and that represents a lot of books. A massive thank you to everyone who has helped me raise this additional money for Bloodwise, and it is ongoing so, if you are thinking of books for Christmas presents, please do consider Life's a Beach and Then…
Unusually for me, I have actually started my Christmas shopping. QVC had a great deal on a bundle of two Amazon Fire tablets with cases and sd cards for under £100. My mum is ninety, and Chris's mum, Audrey, is eighty-two but we are going to drag them into the 21st century. It will be useful for my mum to be able to send me her latest short stories via email and great for Audrey to be able to connect visually with family in Australia, and 'see' us more often too. I will be making sure that the Kindle app is pre-installed although I'm pretty sure that both of them prefer to hold a 'proper' book in their hands! That said, many books are only available electronically – my Time for a Short Story is a case in point until I have written enough short stories to make a paperback
anthology.
I have been working on a short story of around 3000 words called The Shadow of Her Smile which won't be available to purchase separately. If you have signed up to my newsletter it will be available to download in the next few days – still working on the technology! Here is the first page to whet your appetite: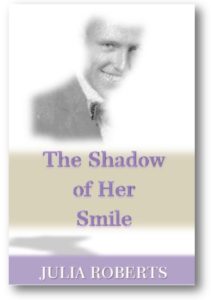 'What time are you home tonight?' Lisa asked, pulling the clothes out of the tumble dryer one by one and folding them into five neat piles. She always found it quicker and more efficient doing it at this stage rather than loading everything haphazardly into the plastic washing basket, allowing crumples to settle into the clothes as the warm air cooled, before tipping them out on the bed upstairs to sort through later.
'Well, we don't finish playing until 1am,' Tim replied. 'By the time I've packed up and loaded everything in the car and making allowances for the inevitable roadworks on the M25, resulting in a diversion through the back of beyond, I can't see me making it back here much before half two.'
'I won't wait up then. Fin's match kicks off at nine and it's an away game so he needs to be on the mini-bus at seven.'
'Mini-bus?' Aren't you going to watch?'
'No parents allowed. It's an indoor futsal tournament so there is nowhere for spectators to stand.'
Tim moved behind his wife and slipped his arms around her waist, pulling her into a hug.
'Maybe you can come back to bed when you've dropped him at the training ground?' he suggested, planting kisses on the back of her neck.
I hope you like the sound of it and will want to read the whole story which does take a slightly spooky turn, inspired by something that actually happened to my 'other half' – it should only take around ten minutes. I should also mention that he designed the cover page.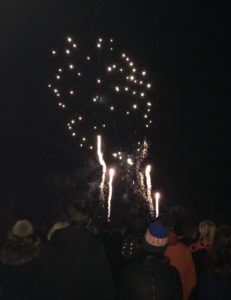 I wonder if any of you went to fireworks displays? We haven't been to one for years but decided to go to the one at Wentworth golf course as it is quite close to home. The display was good, but started thirty minutes late due to the massive underestimation of how long it would take to get all the spectators cars parked. I'm not sure I would queue up for an hour next year- maybe just a few sparklers in the back garden.
Here's something else a little spooky. I'm always looking for interesting things to tweet about my books so that (hopefully) people won't get fed up with me. I remembered there was a scene in Life's a Beach and Then… featuring a firework display so I got a book out of the cupboard to look for the page to photograph and tweet. No word of a lie, I opened the book, which is over three hundred pages long, on page 148 – you guessed, the page the fireworks featured on!
Well, that's about it for now. I will have some news with a purple theme on my next blog
much love
Julia x
Writing runs in the family…
24/10/2016
I must confess I haven't really managed to get a lot of writing done in the past two weeks but I do have some very good excuses. Firstly, I had my mum staying for a few days and I wanted to re-ignite her enthusiasm to finish some of her short stories so that I can edit them for her and eventually publish them in a book. She had brought her laptop with her and it fell to my long-suffering other half, Chris, to patiently instruct her on the very basics of computer literacy, not that I'm one to talk… my computer skills are pretty limited! Mum put her typing ability to good use transferring 'The Red Geranium' from long-hand scrawl into a format that will be easy for me to edit.
Whilst she was typing on her computer downstairs, I was upstairs working on the only story she had already typed up. It has two working titles, 'My Daughter Isabel' and 'It's All in the Leaves' but it could well end up being called something else entirely. If I hadn't learnt so much from my own copy editor, Justine Taylor, over the past eighteen months, I would never have attempted it. The story is just shy of three thousand words and yet still took me six hours to finish. I don't think any professional copy editors need to worry about me invading their territory. Mum was really pleased with the end result. It is still her story, in her voice, just tightened up a bit. I will make a start on 'The Red Geranium' next. She has been on the phone to Chris in a mild panic a couple of times since returning home but at least it means she has kept the momentum going in terms of typing up her stories to send to me.
After Mum went home, I was back in at work on QVC for the following five days and I find it difficult to be creative when I'm trying to concentrate on my day job. Then, on Tuesday, Chris and I flew out to Northern Ireland. I had a charity function to attend on behalf of British Polio for whom I'm an ambassador. We had decided to go a day earlier than necessary as neither of us had visited Northern Ireland previously and we wanted to visit the dramatic north coast, where many scenes from the iconic Game of Thrones television programme are filmed, although I must confess I've never actually watched it. We stayed in a boutique B&B near Portrush, Northern Ireland's most
popular beach holiday destination, and I did get the seed of an idea for a short story – nothing concrete as yet though. Because of the recent rainfall, we were treated on arrival to a glorious double rainbow and we also saw one the following day when we visited the Giant's Causeway.
The Irish sure do know how to spin a yarn which we discovered from our guide as he launched into the tale of Finn McCool! If you can't quite work it out, I am standing on his boot in this photo.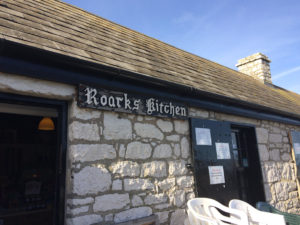 Lunch was at a tiny little café called Roarks Kitchen, on Ballantoy Harbour, and this scrummy display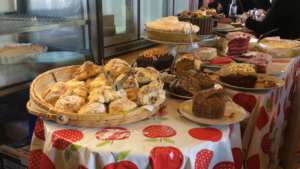 of cakes put me in mind of June's selection at the Primrose Pantry in my 'Time for a Short Story'. Speaking of which, all of the reviews for it have inexplicably disappeared from Amazon. Apparently, I'm not alone in this and usually the reviews reappear but if not I'll have to chase it up with Amazon.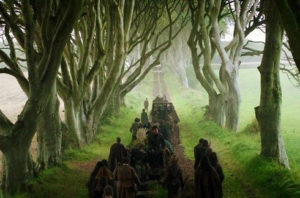 We had a quick walk along the harbour before setting off on our drive to Belfast. The sat nav had been doing a great job but I was a little dubious when it suggested we should take a left turn down a narrow road which I immediately recognised as another location I had read about for Game of Thrones. The Dark Hedges becomes the Kings Road in the TV show but only once they have covered it in soil and turf as you can see on the two pictures.
Before heading to the charity function at Stormont, which you can read more about in the 'My Charity Work' section of this website, we decided to visit the Titanic exhibition. I found it quite sad to think of the tragic loss of life due in large part to insufficient lifeboats for the number of passengers on board. At least the tragedy led to a change of policy in terms of providing lifeboats for all. I would highly recommend a trip to the exhibition if you're visiting Belfast as it also gave a good history of the industry of the area in the late nineteenth century. Interestingly there was an auction held just yesterday where a humble locker key from the Titanic fetched £85,000!
Although I did take my baby laptop with me, I ended up sightseeing in my free time instead, but I have been writing today, adding a few hundred words to my halloween/bonfire night novella. Thanks to Alison, Lorraine, Jan and Diana for your opinions on whether I should publish when finished or hang on for October next year… I'm still undecided! I haven't been as productive as I would have hoped so maybe I should aim for another short story to bring out before Christmas?
There are lots of Christmas books out already and I particularly wanted to mention The Christmas Promise by Sue Moorcroft as she was so helpful in giving me some pointers on how to write a short story. I have downloaded to my Kindle and will read it nearer the time. I should also mention my QVC colleague Jackie Kabler's new book, The Deadline, which was published on Thursday if you like 'cosy crime'.
Until next time
Julia xx
Time for a Short Story blog
12/09/2016
Unlike giving birth to a baby, all the hard work is done when, on the morning your book baby is born, you receive an email from Kindle Direct Publishing saying, 'Congratulations! Your book is available for sale in the Kindle Store.' I hope I'm not the only author who immediately downloads it onto my Kindle even though I already have the mobi file and, of course, I've read it through many times. So, why do I do it? Well, to check that everything is working properly and that I have loaded all the information correctly as I'm not 'a natural' when it comes to computers! I guess 'positive customer experience' is instilled in me after twenty-three years of working at QVC.
Although I launched my first full-length novel, with a blog tour, organised by Jenny in Neverland, I was working so hard on finishing books two and three in the Liberty Sands trilogy that I left it too late to have blog tours for them. I hadn't really been planning on having a tour for my short story but I was keen for feedback from someone who reads a lot and whose opinion I trust. I contacted Linda Hill, an Amazon top 1000 reviewer, whose blog, Linda's Book Bag, I appeared on earlier this year, and asked her if she had time to read it and if she knew any other book bloggers who might be interested in giving it the once over. I was so delighted with Linda's opinion of the story and with the response of other book bloggers offering to read it that I was able to create a tour.
The banner was created using the image of the clock that appears on the book cover. 
That clock is also on my kitchen wall – it was a present from my mum and dad many years ago and inspired the name of the tearoom, The Primrose Pantry, in my story. Yes, I know the flowers on the clock are pansies… it's all part of the story. We positioned the dates of the blog tour down the sides of the clock – almost like a 24 hour clock. As well as being the first short story I have written, it is also the first cover we have done ourselves (my daughter did most of the designing) rather than having a professional cover designer, so I hope you like it.
Whenever I write anything, one of the most nerve-wracking moments is waiting for feedback in the form of reviews. I'm delighted to say the first two reviews are five star:
***Perfect for a commute, lunch break or whilst waiting for an appointment. There's a cracking plot that captivates the reader completely… I found it quite inspiring***
***What a treat this little story was! I was hooked from the start and was kept enthralled to the end. One of the best short stories I've read***
I hope you will enjoy it too
love
Julia x