About Julia Roberts
Julia Roberts is probably best known as the original face of the UK's most successful shopping channel, QVC, but she enjoyed a rewarding and varied career in the entertainment industry for many years prior to the channel launching in 1993.
Born in Nottingham in 1956, she had a fight on her hands at just fourteen months of age when she contracted the paralytic form of polio, which saw her hospitalised for five months. On Christmas Eve 1957 she was released from hospital into her parents' care with the caution that she would never walk without the aid of a caliper. Hours of physiotherapy exercises, swimming and dancing lessons, combined with a huge amount of determination from both Julia and her mother proved the doctors wrong in a spectacular way when she signed her first professional dancing contract in 1973. 
The contract was for a summer show in Guernsey and was followed by pantomimes in Leeds, Croydon and Watford as well as further summer seasons in the Channel Islands. Deciding to leave the UK and see a bit more of the world, she danced on cruise ships in the Caribbean, in a theatre show in Barcelona, and performed as a singer/dancer in a cabaret show in Hong Kong. In 1980, she appeared in The Song for Europe as part of a band called The Main Event performing alongside Cheryl Baker, who went on to join Buck's Fizz the following year while Julia signed a record deal with her band, Jools and the Fools, before moving into television.
Having featured in various TV commercials, notably the Woolwich Building Society and Head & Shoulders shampoo, and small television acting roles in Citizen Smith and Doctor Who, she became a hostess on the first and second UK series of the American game show, The Price is Right. This was followed by joining the infamous 'hit squad' on Beadles About before taking a short career break to have her two children.
Presenter
During this enforced break in her career Julia decided she would like to try her hand at presenting. After a baptism of fire which saw her deliver a live ten minute presentation on the hour, every hour for Vauxhall motors for the duration of the 1989 Motor Show at Olympia, she was approached and offered a job on a 'magazine' style show for her local television channel in Croydon. One of the weekly features she presented was called Palace Chatback and it led to her passion for Crystal Palace Football Club, a team she still supports today. Through her association with the club, she also produced and presented several features for Sky Sports, one of which she claims is her favourite piece of work.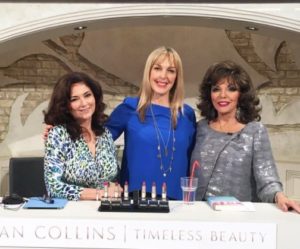 In 1993 she successfully auditioned to become a Presenter for QVC, an American shopping channel launching in the UK, and appeared in the opening sequences alongside co-presenter, Jon Briggs. She had no way of knowing that this was the start of a long and successful relationship with the channel which now boasts over 28 million viewers in the UK alone, with over 1 million active customers. Throughout this time, she has shared the screen with many famous names, including the late Joan Rivers, Marie Osmond, Sir David Attenborough, Joan Collins and Lulu, to mention a few.
Charity Work
Julia is proud to be an Ambassador for The British Polio Fellowship. As a polio survivor herself, her aim is to raise awareness of post polio syndrome.
After being diagnosed with Chronic Myeloid Leukaemia in 2012 Julia pledged to help raise money for the charity Bloodwise which helps to fund important research into the latest drug therapies to treat all forms of blood cancer.
World Polio Day 2016
October is a busy month for polio charities as not only is it World Polio Day, which this year was on 24th October, but also Post Polio Syndrome Day, this year celebrated on the 20th October and marked by a visit to Stormont, the seat of the Northern Ireland Assembly. I was honoured to be invited to attend the afternoon tea hosted by Mairtin O Muilleoir MLA and Sammy Douglas MLA and listen to speeches delivered by Dr, Thomas Frawley and Frances Quinn amongst others.
The purpose of PPS Day is to raise awareness of the neurological condition that affects approximately eighty per cent of people who battled and beat polio in earlier life. It is  a horrible 'sting in the tail' and although not curable it was proposed that research, using a controlled group of polio survivors, like the 1800 currently living in Northern Ireland, may lead to prevention of the condition developing.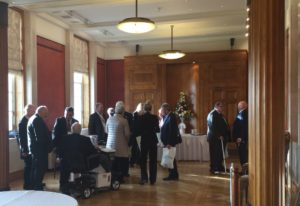 You may ask why this is important when polio is a 'thing of the past' in the UK and people of my age, sixty, are currently some of the youngest survivors. It was put into perspective by John R McFarlane, President of the European Polio Union, who pointed out that there are currently over eight million polio survivors in India, many of them children, and over 100 million around the world. If research found a way of preventing Post Polio Syndrome from developing not only would it save billions of pounds in terms of caring for the affected but it would also make a tremendous difference to their quality of life. Let's hope the politicians who spoke so eloquently will follow through on their suggestions.
I had also been invited by Rotary GB & Ireland as part of their 'End Polio Now' campaign to attend an event at the Science Museum two days after World Polio Day to give a talk about my experience of contracting and living with polio. The evening was hosted by former Blue Peter presenter, Konnie Huq.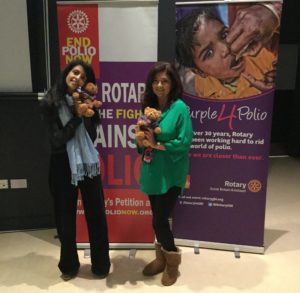 Rotary International in conjunction with the Bill and Melinda Gates Foundation, who donate double for every pound raised, have done an amazing job in their attempts to eradicate polio worldwide. Just thirty years ago polio was endemic in one hundred and twenty-seven countries, now it is only in three, Pakistan, Nigeria and Afghanistan, and there have been only 27 reported new cases this year. Immunisation is the key as polio is preventable but not curable.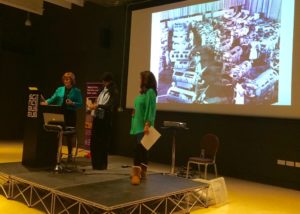 If the world was ever declared polio free the immunisation programme would still need to continue but it costs pence for a dose of the vaccine compared with the cost of caring for survivors of the disease, not to mention the awful cost to the individuals of a life devastated by paralysis in varying degrees. My message was that we must avoid complacency in believing that we have 'beaten' polio in Europe. There were two new cases reported in the Ukraine in 2015. With the freedom of travel we all enjoy these days no-one is safe unless they have been vaccinated.
If you are a parent reading this I urge you to make sure that your child is protected. I'm one of the fortunate ones whose disability hasn't impacted majorly on what I have been able to achieve but there are many things I have never been able to do. Current levels of immunisation are 2 – 3% below those recommended by the World Health Organisation leaving us vulnerable to an outbreak, like we saw with the measles epidemic fairly recently, and there have been cases exhibiting similar symptoms to polio in the past couple of years.
Please help spread the word about the importance of immunisation against polio and if you'd like to donate or purchase 'Pinky', visit his Facebook page @RotaryPolioBear or you can order from here.
Both Bloodwise and British Polio benefitted from a charity swimming gala that she organised in conjunction with QVC in July 2013. Former Crystal Palace footballer and fellow CML survivor, Geoff Thomas, Paralympian and fellow polio survivor, James Crisp and former Crystal Palace first team coach, John Salako, all supported the event along with many friends and colleagues from QVC.
Watch the video…