Welcome to my author website. It feels good to be able to call myself an author, something I have wanted to be since the age of ten when I was awarded second prize in a story-writing competition in my home town of Nottingham. My journey to publication has taken a while but I have now written the Liberty Sands trilogy, three full length novels filled with emotion, love, heartbreak and a little humour, a short story, entitled Time for a Short Story and my latest novel, Alice in Theatreland, set in the West End of London in 1976, which is more of a thriller with a hint of romance.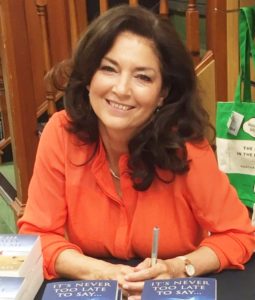 These are all works of fiction with elements of people I know in the characters and the plots but if I hadn't written my first book, a memoir entitled One Hundred Lengths of the Pool, published by Random House imprint, Preface Publishing, in March 2013, I may never have gone on holiday to Mauritius and had the inspiration for the first book in the trilogy, Life's a Beach and Then…
Just over two years after conceiving the idea, book one of the trilogy was born in May 2015. It was very gratifying for my debut to reach #28 in the Amazon Romance chart, particularly as an independent author without a major publisher's marketing department behind me. My goal was to have all three books in the trilogy released within in a twelve month period which I now realise was a little ambitious when you are also holding down a full-time job. I missed my own self-imposed deadline by eight days but I didn't want to rush the conclusion of the story. All of the books in the trilogy have received praise in the form of five star reviews but I realise these are opinions and one of the things I love about Amazon is the Look Inside feature which allows you to try before you buy. I would much rather people do that than part with their money only to discover that they are not a fan of the way an author writes.
My latest release is a short story. Not everyone has the time to sit and enjoy a full-length book and personally I find myself having to re-read chapters if there has been a gap of more than a couple of days. Time for a Short Story is my first attempt at writing something more concise but I enjoyed the experience so much, it definitely won't be my last.